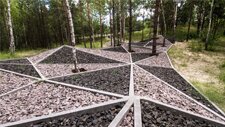 name: holocaust memorial
client: American Jewish Cometee
status: completed
location: Bakhiv, Ukraine
program: 1075 sq.m.
architects: Dmitry Zhuikov, Arina Agieieva

collaborator: BURØ
photo: Anna Wojtenko/AJC
year: 2015
Design sets opposition between the explicit broken outlines of mounds and smooth, calm lines of the srurrounding nature. This static
dynamic gives a hint to the distinctive
history and energy of the space. Thus, visibility of
the burial place
is underlined
.
Randomly inclined
faces create effect of
ever-changing contours
.
Path from the parking leads only to the central platform, and not directly adjacent to the mounds above the
graves. For service reasons each
of the graves connected with central square
with a narrow service path. This solution should prevent penetration onto the mounds
. Two
distant mounds will be visible from the bench on the platform.

Stella with a memorable text is a low concrete surface, that
truncates the hill above the large grave, nearby the central site.
Mounds are
made of the rammed earth and protect the remains. All t
hree mounds are covered with a large scale triangulation mesh.
Path, central
area
and the bench are subdivided following the same
principle of triangulation.