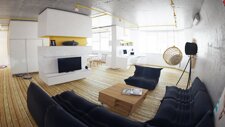 name: mod apartment
location: Kiev, Ukraine
function: apartment
program: 108 sq.m.
architects: Dmitry Zhuikov, Arina Agieieva
collaborator: Buro-o
year: 2012-2015

This project in the new house is a result of successfull collaboration of the client and architects. Public space of apartment considered
as "organic whole"
and only divided on zones with different functions using volume of furniture. As a complementary
idea was selected
the British MOD movement from the 60s.
To emphasize the free space architects choose one single floor material. Ceiling retained as concrete, sanded and covered with transparent
dope.
The main decorative element is a single lighting system in the crude
metal pipes, painted in bright colors, which indicate different
functional zones.