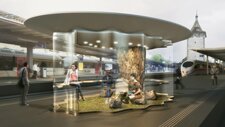 name: SBB Rocks
client: SBB CFF FFC
status: 2nd place and jury award in the international competition
location: Schaffhausen train station
function: urban design objects
architects: Arina Agieieva, Dmitry Zhuikov
year: 2017


Initiated by Swiss Federal Railways with the motto "More than mobility", this competition is aimed at the improvement of the waiting areas
on the train stations across Switzerland. A train station in Schaffhausen was selected by the client as a test area for theese improvements.
Our proposal is inspired by the unique Swiss nature. Every piece of the county has a specific landscape with mountains, rocks, stones,
mountain rivers, lakes. The SBB Rocks brings this unique experience of the local nature to the the passengers of SBB and employes its
properties to provide a better climate on the train stations. SBB Rocks consists of a pavillion and a set of furniture. Their main elements
made of stones (boulders), taken from the surroundings of the town, glass and stainless steel. Glass curtain protects from the noise and
helps to maintain microclimate inside the pavillion. The stone in the center of the pavilion provides microclimate with a core activation system.
A tap with a fresh Swiss drinking water is installed inside the pavilion, as it is unique feature in many Swiss towns and cities.