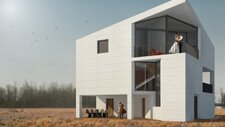 name: Rock house
customer: Comrade. Baum
location: Kiev Region
function: single-family house
program: 250 sq.m.
architect: Dmitry Zhuikov
3D visualization: Dmitry Zhuikov
year: 2010
A spacious single-family house is located on a vast flat peat field, surrounded by hills, a forest, and a river. This environment prompted the creation of a three-storey mono-block, where the volume of each floor is perforated with terraces that overlook different directions.
Thus, the house becomes a sort of a watch tower from where one can enjoy the beautiful scenery.
The first floor accommodates a two-car garage, utility rooms, a hall and a wardrobe (entrance group).
On the second floor there is a kitchen/dining-room, a living room, and a study ("welcome" group). Bedrooms (private group) are located on the third floor. Each floor has its own terrace. Inside the house, the floors are connected by means of an intricate system of staircases, creating a skylight on the level of the second and third floors, which adds another decorative element to the house.