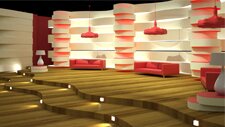 client: Inter TV channel
function: TV shows
program: 400 sq. m.
location: Kiev, Ukraine
architect: Arina Ageeva
3D visualization: Arina Ageeva
year: 2010
The design of a new studio for Inter TV channel features the principle of finding ultimate constituents of various elements.
The interior design provides for hidden lighting which is supposed to accentuate the shape of the objects and create the
general light. The studio is designed as a venue for entertaining shows and debates.
The project is presented with the use of 3D visualization.