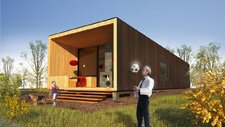 program:
75 square meters
architects:
Dmitry Zhuikov, Arina Ageeva
3D visualization:
Dmitry Zhuikov, Arina Ageeva
The summer house has been designed as simple box-shaped volume with a single-pitch roof. The special appeal of the house lies in the
interior facing the outside. Overlooking the south, the volume has a large loggia adjacent to the kitchen and the living room. The loggia
has functions similar to those of the house itself as it has a fireplace with a couch, a summer kitchen, and a large dining table with built-in
places for seating. Thus, the house provides everything which is necessary for a summer vacation in the countryside. The cozy and warm
interior adds a lot to the relaxed atmosphere of a holiday.
ZAarchitects made preliminary design of the house with the use of 3D visualization.