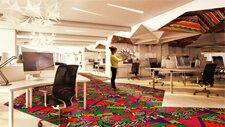 client: bogota coworking
location: bogota, colombia
function: coworking center
program: 10 133 sq. м.
architects: Arina Agieieva, Dmitry Zhuikov
year: 2013

Time of borring offices going to end. People spend more and more time in the offices
and thus need to have home atmosphere
there.
We propose design that based on coziness, freedom and game. We were inspired by small
historical towns atmosphere.
How in such towns people can quickly communicate with each
other, and have a lot of random meetings and acquaintances. And we
want to give this
kind of feeling to the people who going to work here.
Our second inspiration was variety of colombian patterns and bright colors.
We mix them with origami logic, that is used for dynamic
partitions and another structures.
Design of coworking floor will help people to form teams very fast. Flexible working
stations and systems of curtains will serve as mechanism for space changing for creative
working places.