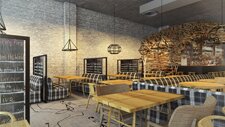 client: steak of the art
location: bristol, great britain
function: restaurant gallery
program: 250 sq. м.
architects: Dmitry Zhuikov, Arina Agieieva
year: 2013

core idea of the project is "nesty" gallery volume that splits entire plan on three general zones. core idea of the project is
a "nest" where art
is born and accumulates. As the crow brings in its nest beautiful things, restaurant will accumulate art.
The main volume element will serve
as space of the gallery that separates the restaurant into two zones. The gallery endpoint
is the bar, which is also located inside of the nest
shape. This solution has a number of advantages:
1. gallery is the sign element distinguishing steak house from the other restaurants (we also propose to place external agents
around the
neighboring public places, a kind of urban sculptures, that made in same technique as nest. They will intrigue
people to come in when they
will spot the bigger sculpture inside)
2. at night volume of the gallery will be a giant lattern, that creates art shadows
3. gallery divides restaurant into two zones: main zone where performances and public events take place and a quiet area only
to enjoy your
dinner
4. gallery volume itself is art! And regarding moderate budget it is good option, for it is the only element that requires investment,
and will maintain
overall mood despite modesty of the other materials - painted cladding, exposed concrete ceiling and floors, etc.
we also propose to make a
small art shop, where visitors can buy something that they spot and like while walking at the gallery.
Also there is range of activities that we propose for clients. They can draw on the floor with chalk or coal, can draw on the
dividing black boards
(in between banquet units) and on the empty canvases that standing or hang around. In the main hall there
is a place for artist's performances or
live music. On the long wall of the main hall there is place for video art projection
In the gallery as well as in the "wall of art" that enclose studio
can be exhibited caricatures of permanent clients, or pictures
that where drawn by visitors.